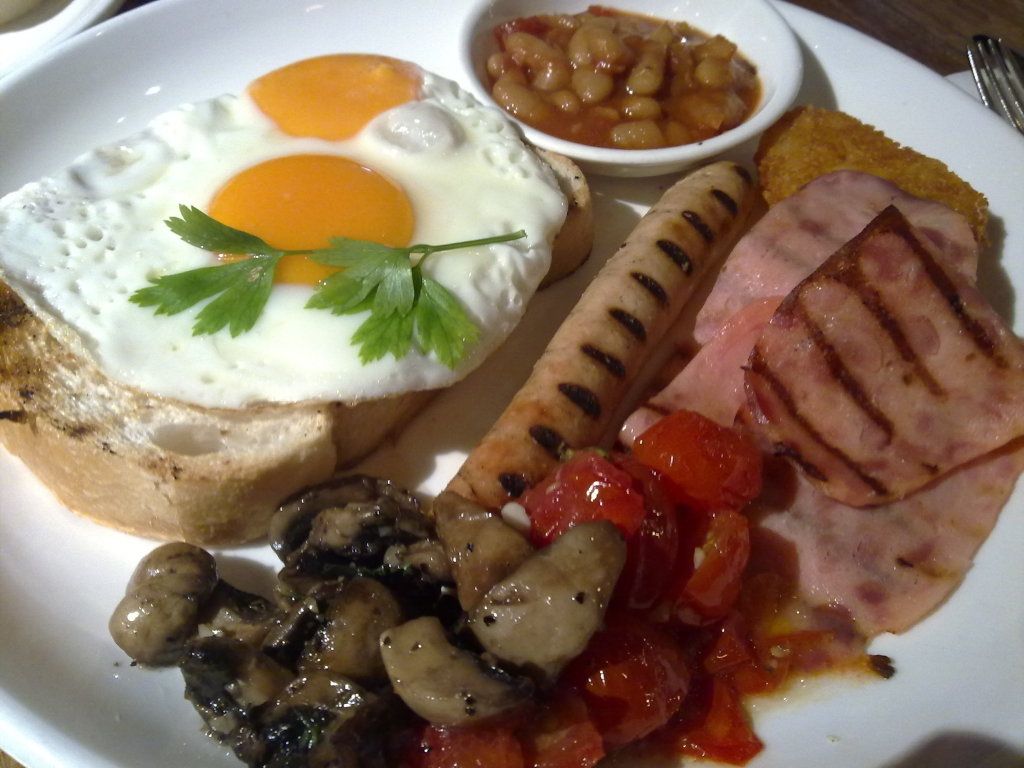 Plan B.
Hahaha bukan maksud aku bertukar ke plan B bila sarapan itu mahal ye! Plan yang dimaksudkan ialah restoran yang bernama Plan B yang terletak di Bangsar Village, Bangsar. Tekak terasa mahu sarapan yang international lagi pula hari tersebut ialah hari istimewa jadi, belanja lebih sikit lah untuk sarapan pagi. Sebenarnya tak pagi sangat la...dah nak dekat pukul 12 pun, orang putih kata...BRUNCH. Haha...let's see the menu!
Suka dengan policy restoran ni, food gerenti awesome.
Haaa gitu. Kalau nasi lemak tambah ayam goreng, telur mata dan sambal sotong mungkin cuma RM6, tapi sini harga RM7 cuma dapat roti toast je lah kamu nun kat menu atas sekali! Hehe!
Disebabkan lapar betul, aku pilih Plan B Breakfast Platter dan untuk anak aku orderkan Eggs Royale, kasi makan salmon sikit biar pandai... :) Yang bestnya restoran ini semua food dalam menu breakfast dan brunch ni available sepanjang hari walaupun pagi dah berlalu pergi gitu.
Ini lah rupa set breakfast tu. Walaupun harga mahal sikit tapi portion banyak dan dapat coffee and fresh orange lagi. Coffee tu aku order Cappucino. Memang lah sedap sampai terbayang bayang hingga ke hari ni sebab kalau Starbucks kau order lah latte ker...cappucino ker..suma ada aftertaste bitter yang common lah dalam coffee Starbucks tu tapi cappucino Plan B ni rasa dia smooth dan lagi berlemak...tapi smooth tu memang ketara la. Sedap! Breakfast platter tu ada roti toast, telur boleh order nak masak stail macam mana, baked beans, mushroom + tomato masak stir fry with herbs, hashbrown, turkey bacon dan chicken sausage. At the end of it, memang kenyang gile lah~
Tengah gigih hadap Eggs Royale
Eggs Royale. Walaupun hanya dua ketul tapi full jugak lepas makan benda ni. Mana taknya, ada poached egg dan smoked salmon disirami oleh sos hollandaise...sos ni jenis creamy, semua ni di atas toasted english muffin. Fuh, memang cukup memuaskan hati!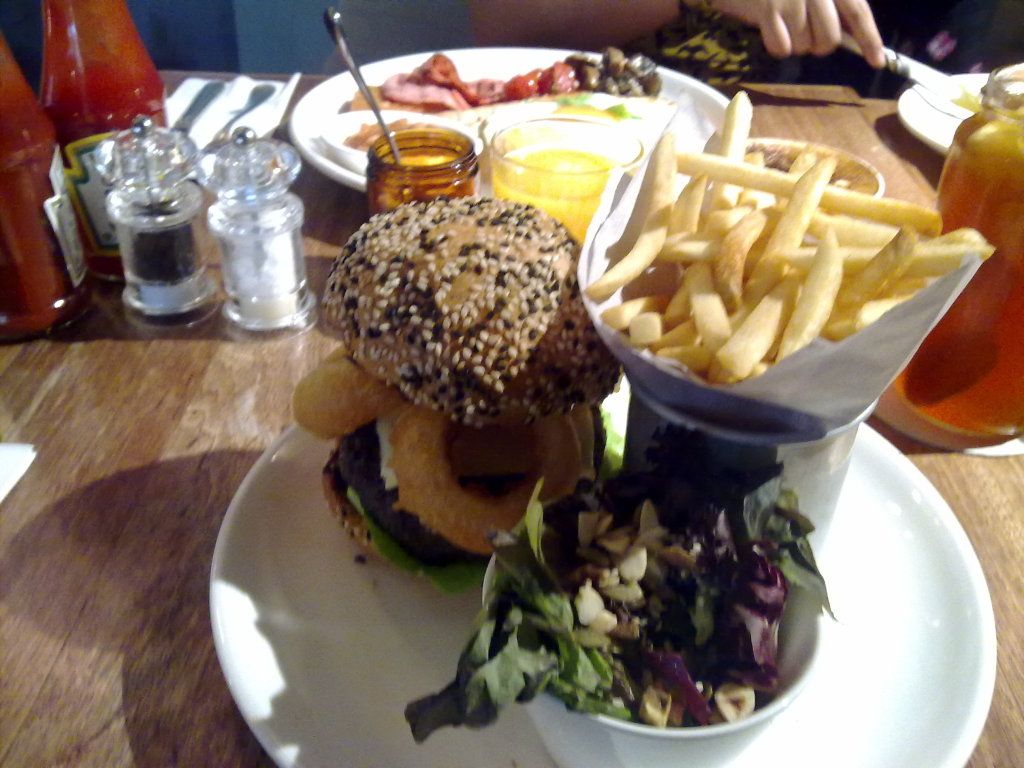 Ini ialah Chargrilled Cheeseburger. Tengok lah onion ring dalam burger tu besar kemain. Daging burger dia sedap...mungkin sebab dia buat sendiri daging burger tu jadi ianya mendatangkan rasa yang berbeza. Ambil masa gak nak habiskan ni!
Suasana restoran yang santai
Ada kat Ikea tak botol air macam ni?
Kualiti makanan memang harus dipuji sebab ianya setanding dengan harga dan memang sedap. Suasana restoran yang santai menjadikan ia daya tarikan orang ramai untuk bertemu janji di restoran ini. Dibuka dari 9 pagi hingga 6 petang setiap hari tau.
Ha! Nak tahu berapa kami belanjakan untuk sarapan international ni?
Sian orang tu pagi-pagi dah kena pau!~ :D
Tapi dalam hati rasa macam nak kena repeat lagi Plan B ni, try pasta dan burger lain pulak!